Touch Magazine Spring 2022
Change, Resilience and Integration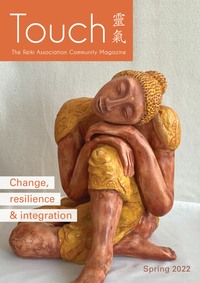 64-pages of rich content exploring themes of change, resilience, integration and spiritual expansion with Guest Editors, Laurence Fontaine, Deborah Rodney and Louisa Booth.
We revisit the fundamentals of Reiki practice with self-treatment circles, Reiki sending circles and the Reiki Principles. There are stories from Australia, Trinidad, Hong Kong and America about using Reiki to connect with the land through indigenous wisdom and regenerative thinking. There is also a commentary on Spiritual Lineage, articles about Personal Development, Reiki dogs, and creative offerings from Reiki artists and poets!
Touch continues to share stories from the Reiki Association community in the UK, so if you are interested in becoming a professional Reiki practitioner, fancy a book review about Reiki & science, crave a bit of crafting, or want to engage with the Reiki Association online offerings, then this spring edition of Touch magazine has something for you!
Members of the Reiki Association received this special double edition in April 2022 as part of their membership.
If you have Reiki and would like to join the Association please
go here
.
Anyone can
take out an annual subscription to Touch
, which is now published as a double issue bi-annually.
If you would like to buy copies of this edition, (with special prices for multiple copies - UK buyers only), please use the buttons below
. There will be no more print runs, so stock is limited.
Do not miss out!
To be mailed to within the United Kingdom
(England, Scotland, Wales, Northern Ireland, and includes the Channel Islands)
Use the menu below to select and click on number of copies
---
To be mailed to countries within the European Union (EU), Iceland, Norway, Switzerland and Russia
Please use the button below to order
---
To be mailed to USA, Canada, Australia, New Zealand, the Far East, and any countries worldwide not already included in menus above.
Please use the button below to order
Please note: customers outside the UK are responsible for any VAT or import duties the country being mailed to may impose.
For further help in ordering...
Reiki Association Members
Members of the Reiki Association have received a copy of this Commemorative Edition of Touch Magazine as part of their membership, but you can obtain additional copies, perhaps for friends or students, by ordering on this page.

Subscribe to Touch Magazine
Get news about Touch Magazine!
If you have an interest in the world of Reiki, or Reiki people and practitioners, and would like us to email you occasionally about new issues of Touch Magazine and upcoming features or events, then please submit your details below.
Note that we do not supply your details to any other parties, and you can unsubscribe at any time.