Touch Winter 2020 - Stories of Wanja
Wanja Twan 1934-2019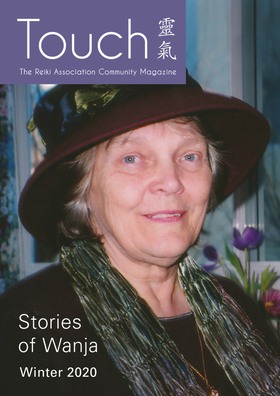 Wanja Twan was one of 22 Reiki Masters initiated by Hawayo Takata
, and one of 5 Reiki masters living in Canada. She passed away on 3rd September 2019.
Touch Magazine
is delighted to bring you '
Stories of Wanja
' a special commemorative edition dedicated to the memory and legacy of Wanja Twan. With 40 pages packed with stories, poems, artwork and historical photos, this keep-sake shares details of Wanja's life and memories from some of her family, students and friends, highlighting Wanja's dedication to Reiki, and to the teachings of her master, Hawayo Takata..
Delighting in Wanja's unique blend of the mystical and the practical, there are contributions from
Anneli Twan, Michelle Beauregard, Rick Bockner, Paul Mitchell, Inger Droog
and anecdotes from pioneering Reiki masters from across Europe and Canada, who first learned Reiki from Wanja in the 1980s.
Covering 40 years of Wanja's Reiki practice
, we are also celebrating the creative pursuits that Wanja excelled in and encouraged in others, with examples of her weaving, painting and books.
Members of the Reiki Association will receive this special edition in January 2020 as part of their membership
If you have Reiki and would like to join the Association please
go here
. Do it now to receive this edition as your first copy of Touch magazine.
Anyone can
take out an annual subscription to Touch
, which is published quarterly. Existing subscribers will also receive this special edition copy in January.
If you would like to buy copies of this edition, with special prices for 10 copies and over, you can order them below
. Note that the print run has now been completed, so availability is limited.
Do not miss out!
To be mailed to within the United Kingdom
(England, Scotland, Wales and Northern Ireland)
Use drop menu below to select and click on number of copies
---
To be mailed to countries within the European Union (EU), and Russia
Use drop menu below to select and click on number of copies
---
To be mailed to countries outside the UK and the EU, and other than Russia E.g. USA, Canada, Australia, the Far East etc.
Use drop menu below to select and click on number of copies
Please note: customers outside the UK are responsible for any VAT or import duties the country being mailed to may impose.
For further help in ordering...
Reiki Association Members
Members of the Reiki Association have received a copy of this Commemorative Edition of Touch Magazine as part of their membership, but you can obtain additional copies, perhaps for friends or students, by ordering on this page.

Subscribe to Touch Magazine
Get news about Touch Magazine!
If you have an interest in the world of Reiki, or Reiki people and practitioners, and would like us to email you occasionally about new issues of Touch Magazine and upcoming features or events, then please submit your details below.
Note that we do not supply your details to any other parties, and you can unsubscribe at any time.